Here it is! The casevideo of Freshers (Feuten), the most successful transmedial project to date in the Netherlands.
In 2013 Spektor Storytelling and Elastique together created H.S.C. Mercurius, the fraternity from the Dutch drama televisionseries Feuten. Fans of Feuten could become a member of this virtual fraternity using an application on mobile devices. Users would get extra video content and got invited to live events with characters from the series.
Alternate Reality Game
The app was one side of the whole campaign, the other was an Alternate Reality Game (ARG).
This is where Jim and I have been working on at Spektor Storytelling.
The storyline starts on television, when Jeroen Beeksma is being accused of stealing money he did not steal. On Twitter and his blog he says he is going to start an investigation to find out who set him up, and he is asking players for their help.
When someone tells him the setup could be the work of Filius Septimus, a secret society who rules the fraternity (and much more..), the online search begins. Players could stumble upon various websites, blogs and video's who justify the existence of this mysterious society. The fiction has a lot of connections with Skull and Bones and goes way back to the 17th century, the golden age. Is this some kind of crazy theory? or is it the truth?

A small part of the content we had put online
Strange things happen by time. The vlogger once a strong believer of the theory now denies everything. And an old manifesto, the key evidence of the existence of Filius Septimus, has been found in the attic of a girls grandfather, sold online for 12.000 euros by an mysterious bidder known as 'Jerry'.
This person begins to send shredded pieces of this manifesto to players and he marked letters on each piece when put together reveals an url of a website (www.hetkatenmuisspel.nl , sadly the content is down)
The website is leaking information about Filius Septimus, but the players must first bypass codes, seek through encrypted messages and videos and even retrieve pieces of a password by pizza delivery!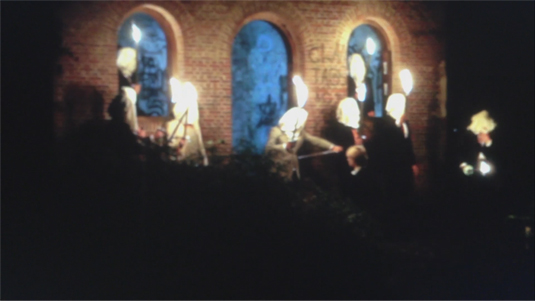 A still from a video of a thrilling Filius Septius ritual
The players, with Jeroen Beeksma, are following Jerry's breadcrumbs to a live finale where the players where asked to come into a shed one by one. Blindfolded, they had to make an oath to join Filius Septimus. After a moment of self-reflection and a pianoconcert, Jerry reveals himself. He is a member of Filius Septimus and he has tested his new men to go to the bitter end. The very few now knew the truth about Filius Septimus, or don't they?